Article: Our new redesigned Jimmy Page Kit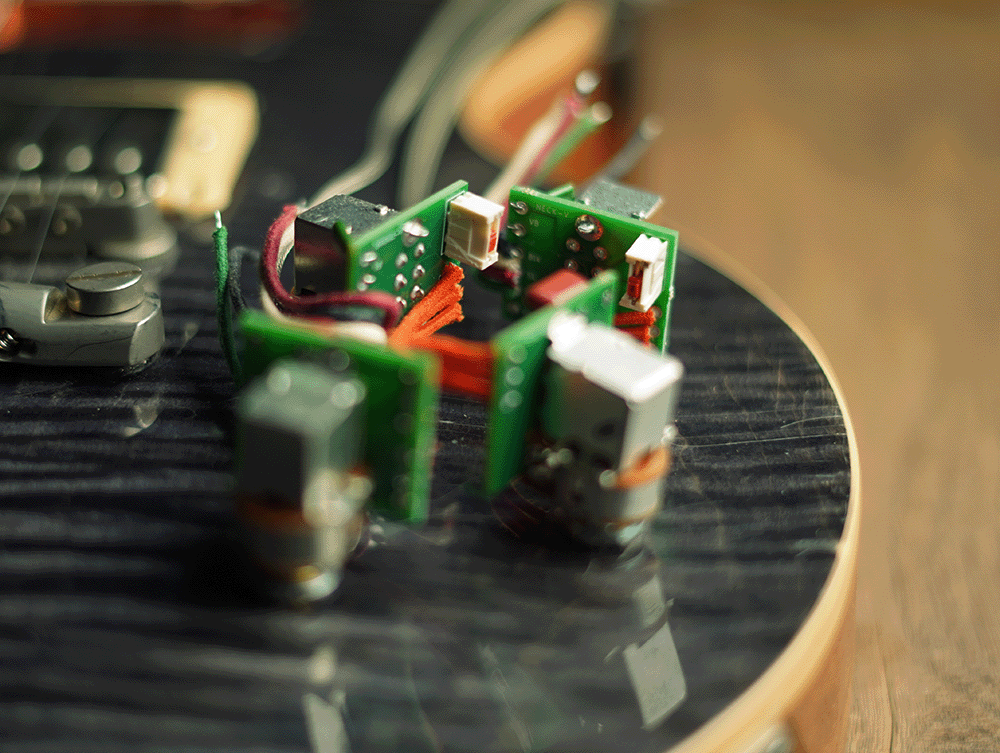 Our new redesigned Jimmy Page Kit
The Jimmy Page circuit can be a game changer for people, especially when you are just starting out discovering wiring. For me it was. This is the circuit that got me addicted to learning wiring back in 2005, after I bought a poorly built pre-made version from a Les Paul forum seller. But to be honest, I have never really hidden my love hate relationship with this circuit. It's a complex design. On one hand it is an absolutely amazing kit to use if you love options, or distortion. But on the other hand, it is prone to a lot of noise related issues we can't control, and is a nightmare to build, as it is a slow process that is VERY detail oriented. 
Just in case you are not familiar with the Jimmy page circuit we will summarize it. Found on Jimmy's 1959 Les Paul's, this circuit allowed you to have 21 different sounds. How it works is each control is a push pull with a different switching circuit that plays with the 4 conductor humbuckers
Bridge Volume: Coil Cut "Coil 1"
Bridge Tone: Phase switching (only works when both pickups are in play)
Neck Volume: Coil Cut "Coil 2" (for Humcancelling when both pickups are "cut")
Neck Tone: Series (When Series switch is engaged the Treble switch position acts like a kill switch for a cool strobing effect)
But again, where this kit is amazing is when you combine everything. Example's below
Fuzz lover: Throw the switch in middle position, Pull up the Volumes, and bridge tone. Now that Fuzz face has an amazing bite. 
OD/RATT: With the

 

switch

 

in middle or rhythm position: Pull up the Neck tone to really hear the guitar push that overdrive.

 

Think It's too muddy? Pull the Bridge tone as well to get a more mid focus OD

 

sound.
Delay: With the bridge tone engaged. Playing with the volume switches in different combos can get you some amazing tones.
Clean sound: I've said this for years but imagine a "Guitar model" sound and dial in the controls to get that sound. 
These are just some of the easy ones. There's many more.
Back to our kit. Over the years, I have really gotten away from the OG circuit design, and made it my own, not only to give you more options with different filter circuits but also to help with some of the quirks. With this latest revision, it's basically the same idea. Not only did we make it more bulletproof, but we made it even more beginner friendly, as our standard hand wound setup either scared, or caused confusion to the installer during installation. We also took our 2 top selling versions and combined them to give you even more flexibility. The whole goal with this change is to do and be better, which we think we did a good job on.
New Features on our redesigned kit. 
PCB based switching circuit design: Designed to improve

Overall durability, and consistency
Circuit traceability
Circuit design options

Switching to Bourns Push Pulls: There's nothing wrong with the CTS versions we used before. Just from our field tests between the 2 have found Bourns to be the better option. 
New "Voicing" switches: We designed the circuit to give you the option to either have the standard Modern or Treble bleed wiring on either volume control. Giving you 4 possible combinations.

When the switch is "Off" the Volume saves more low end as you roll off the control. 
When the switch is "On" you save more high end.